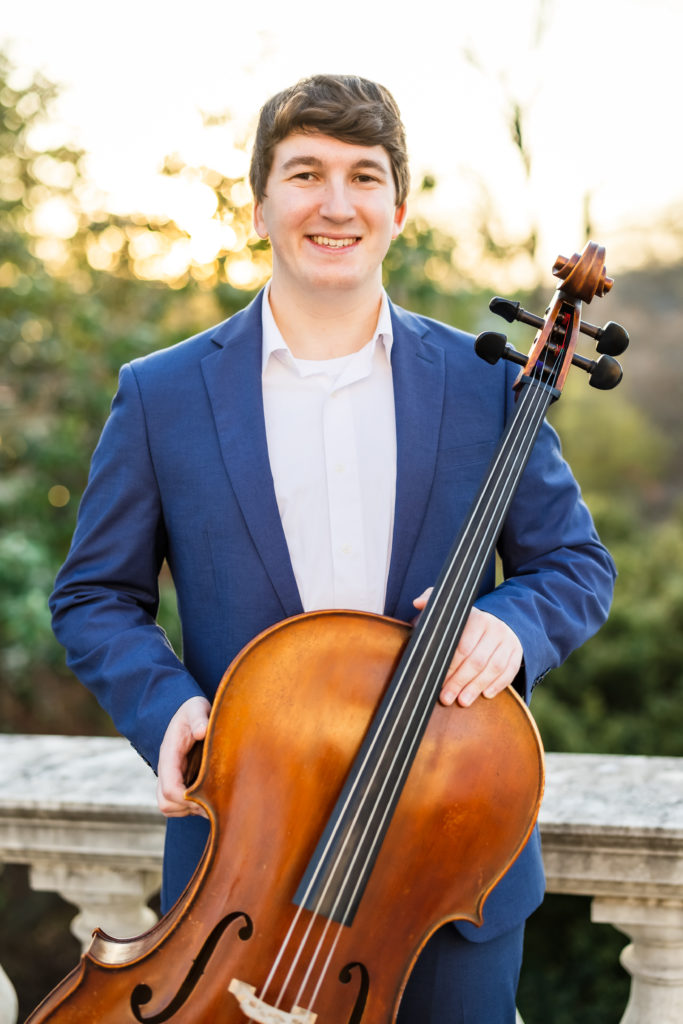 Brent Davis is a Langley HS Class of 2017 alumni cellist. Brent graduated in May 2021 from the University of Virginia, where he received a B.S. in Commerce and a B.A. in Music with a Performance Concentration. At UVA, he studied with Professor Adam Carter and performed regularly in the Charlottesville Symphony and several chamber ensembles, as well as a student organization called Radio Music Society, which performs popular music arrangements for string quartet. Brent also managed social media for the UVA Music Department and the Charlottesville Symphony and spent over three years as a Recruiting Analyst for UVA Football.
Brent is currently working at CapTech Consulting in Tysons as a Data Analytics Consultant and recently won the only open seat in the cello section at the Fairfax Symphony Orchestra.
How have you continued with music?
Studying music at UVA, I played A LOT of cello between solo performances, chamber ensembles, orchestra, and gigs. During my fourth year, I had the opportunity to give two full recitals, the first of which was a solo recital as a part of the Distinguished Majors Program. About a month later, one of my chamber ensembles, Trio Sobrenna, gave the first-ever full chamber ensemble recital at UVA for which we received funding through a research grant. Our ensemble worked together through all eight semesters and the recital was a special way to cap off our time at UVA. In addition to currently being a part of the Fairfax Symphony Orchestra, I am in a chamber ensemble with several friends from school and will be going to Hungary to perform at the University of Pecs in March as a part of an engagement that has been postponed for two years due to COVID.
Favorite memory from Langley HS Orchestra:
My favorite memory from Langley Orchestra was performing at Carnegie Hall on our trip to New York during my sophomore year! It was so special to share the stage with some of my closest friends in one of the most renowned music venues in the world to close out such a remarkable orchestra trip.
Words of wisdom for current Langley Orchestra members:
If you love music, there are so many fun and creative ways to stay involved or keep playing after high school. I've had so many friends say that music is an outlet from the stresses of school and work life – keep music a part of your life! If anyone wants to chat or has any questions, please feel free to reach out at brentdavis2017@gmail.com.