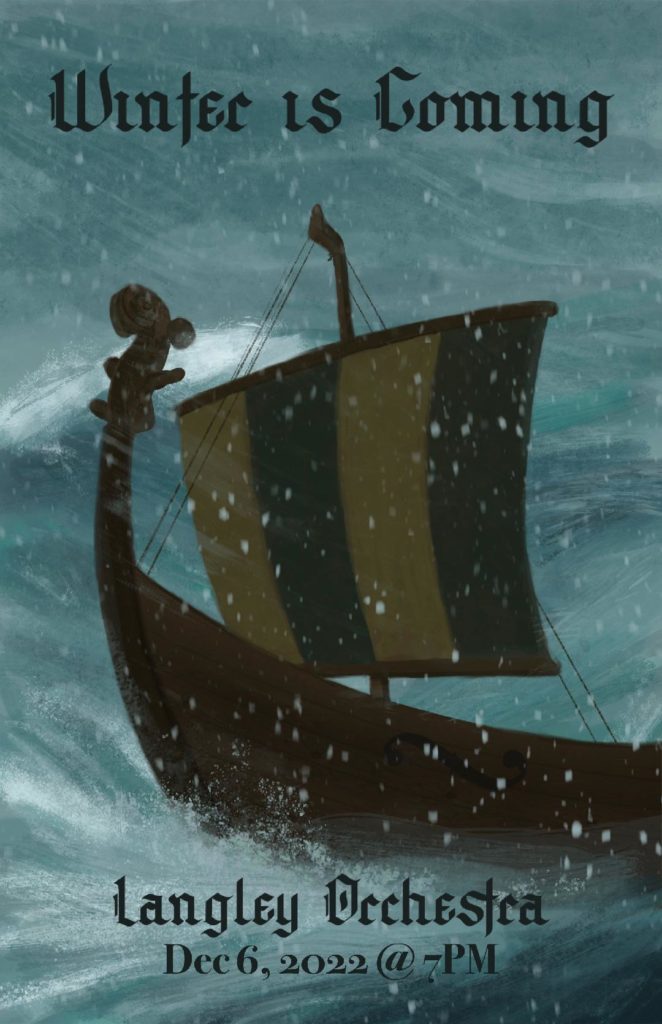 Our December concert, "Winter is Coming," will take place at 7 pm on Tuesday, December 6 in the Langley auditorium. The concert is free and will be video recorded.
Students are required to wear Langley Orchestra formalwear – either the Langley Orchestra black velvet bodice and green taffeta dress or a black tuxedo with white shirt, black bowtie and black cummerbund. Please note that solid black socks and solid black dress shoes are also required.
All students are required to attend concert-day rehearsals. The rehearsal schedule is:
3:00 Concert Orchestra (Freshmen & Sophomores)
3:45 Symphonic Orchestra (Juniors & Seniors)
4:30 Preconcert Dinner (Cafeteria)
6:00 Philharmonic Orchestra (in concert dress) w/Choir & Band
7:00 Concert Begins
Please note that during this concert we will need to take photos of each of our 3 orchestras (in front of the stage on choral risers) for use at Carnegie Hall as well as for other purposes. All orchestra students are asked to participate in their group photo (Philharmonic, Concert, or Symphonic). Photos will be taken by our Concert Photographer Rania Razek and will be made available on our Shutterfly site for everyone.
VOLUNTEERS NEEDED!
Please click this link to the SignUp Genius to donate food to our reception area for concert hospitality and volunteer to help with the preconcert dinner or our hospitality tables. Please note we especially need help serving the hot IKEA meatball/plantball dinner to a large number of students who have signed up for this special holiday meal, as well as helping with our annual hot chocolate bar!