On Tuesday evening December 6th, Dr. Scott McCormick and the Langley Orchestra whisked its concert attendees off to Scandinavia. The "Winter is Coming" concert featured music by Scandinavian composers including Edvard Grieg. Jean Sibelius, Dag Wiren and Ola Gjeilo. Philharmonic Orchestra opened the concert, showcasing members of Langley's Concert Choir (directed by Caroline Player), and later, members of the Langley Wind Ensemble and Langley sophomore Tristan Yu on the piano. Concert Orchestra started their set with a rousing rendition of Game of Thrones, and concluding with A-ha's "Take On Me," arranged by Langley alum Craig Hunter. Symphonic Orchestra performed last in the concert with 3 movements from the Peer Gynt Suite, and closed with a medley of famous ABBA songs including Mamma Mia and Dancing Queen. Thanks to Brian Kaufman's Technical Theatre team for spicing up the concert with entertaining video clips and visual effects including use of a disco ball.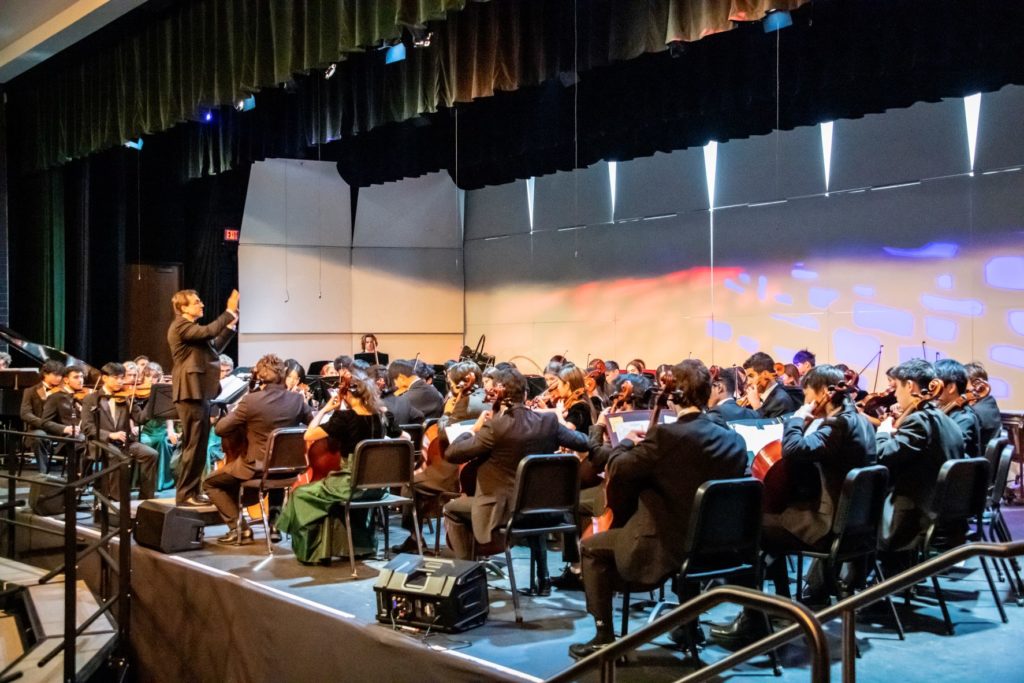 Prior to the concert, students enjoyed a specially ordered meal of IKEA's world-famous Swedish meatballs, complete with all the sides, and a hot chocolate bar. An incredible amount of gratitude to Langley Orchestra's Hospitality chairperson Kim McPherson for planning and executing this incredible meal for our students (IKEA doesn't cater!) and for organizing the beautiful and delicious spread in Langley Hall for students and concert guests.
A huge shout-out and thank you to our Concert Photographer Rania Razek, who climbed a ladder to take Langley Orchestra group photos in between performances. Rania's many amazing photos, both orchestra group and candids, are posted to our Shutterfly site. The group photos will be used for the Playbill at Carnegie Hall as well as other publicity purposes.
The concert program can be viewed or downloaded below, and a link to the concert video will be sent out via newsletter in a few days.
May you have a safe and wonderful holiday season!